As the saying goes, "There's no substitute for experience." That expression rings especially true when it comes to hiring CNC machine operators. More than 40 years of being in business has taught us that training machine operators in-house instead of relying solely on institutions outside of the company is the best outcome. This is true from a human resources, business, and technical perspective.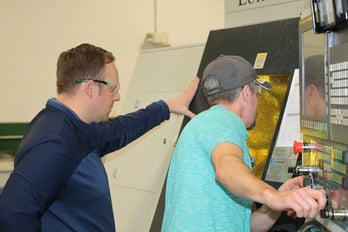 We call this initiative our Training Forward Program, and it helps to ensure that our customers get high quality products that also conform to our corporate vision of being Engineered for Production. A lean process with no shortcuts.
We implemented our Training Forward Program primarily because it is difficult to find CNC machine operators by going the traditional route (i.e. trade schools, recruiters, job postings, etc.). Let's face it, there aren't any experienced machinists with good attitudes collecting unemployment.
We are very proud of the culture we have at C&M and we continue to improve it. These last couple of years have been a huge challenge to culture building but we hung in there and are ready to flourish once Omicron subsides. Hiring for cultural fit is becoming our priority versus pure skills. We are now looking for people that have a mechanical aptitude, a penchant for basic math, and a good attitude!
In short, we're asking: "Are you tired of your job? How about a career?" Ideally, if you like fixing cars or bikes as a hobby, if you like building stuff on weekends, are curious about how things work, and fit our "C&M Cares" values, look no further.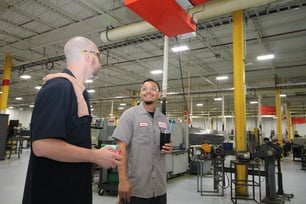 Some of our trainees are established team members who want to advance their careers, and others are in their first full-time positions. Regardless of someone's age or experience level, if he or she has a basic understanding of math and a strong work ethic, that person can earn in the range of $50,000-$100,000+ a year, plus generous benefits, as a CNC Machinist or Engineer. This is a career path, not just a cool job.
We are looking to add at least 8-10 machinists in 2022!
A Pair of Examples
Alejandro Garcia and Tony Peov are two team members who have taken advantage of Training Forward.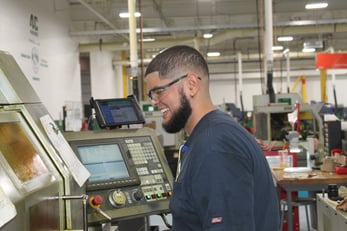 Alejandro is a Swiss Production Lead and was promoted to that position this past August. He's in charge of production for our Swiss Machining Department and has nearly 20 people reporting to him.
He has earned a series of promotions by showing a good work ethic and by always being willing to work with other departments, such as Engineering or Quality to get the job done. Collaboration is one of our core values and Alejandro exemplifies that.
Alejandro regards Training Forward as "a work in progress" that is helpful to people who want to learn more about what the company does and increase their levels of responsibility.
As for advice to individuals looking to pursue a career in manufacturing, Alejandro encourages them to "get in the door as soon as you can to get experience and be more beneficial to your company."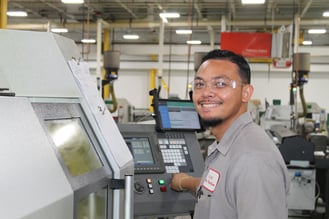 Tony Peov, a Swiss Manufacturing Engineer, has had a similar experience of growing his career within the company. He creates and updates QA sheets, performs program conversions, and helps the production team when they need assistance with programs or setups.

Tony joined the company nine years ago after a friend told him about an entry-level job opening. To earn promotions, he did his best to learn from every assignment and prove to his supervisors that he had the ability to do more.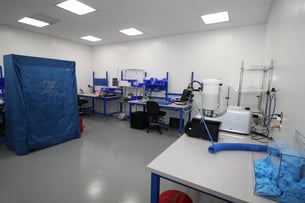 Tony encourages anyone interested in pursuing a career in manufacturing to "get your foot in the door so you can be helpful to the company." If you take care of C&M, C&M takes care of you.
The Program
We already had an informal program going, but with the help of a grant from the State of New Hampshire and outside partners, Training Forward is evolving into a formal program at C&M. It will take 3-6 months to go through the formal curriculum.
We are currently training the trainers and will enroll new recruits in our first class in just a few weeks. Here are some of the topics that will be covered:
Intro To Basic Machining
What is Swiss Machining?
Shop Math/Calculator
Print Reading
Metrology
Optical Inspection
QA Sheets & Part Inspection
Beginning & End of Shift Procedures
Over time, we'll grow into CNC controls, tooling, and more.
The Business Case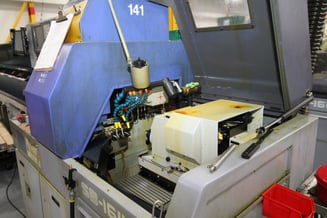 By investing in workforce training, we are cultivating a team of CNC machining professionals who fit in with our company culture of being committed to excellence, transparency, and inclusiveness. These individuals would rather be at C&M than anywhere else.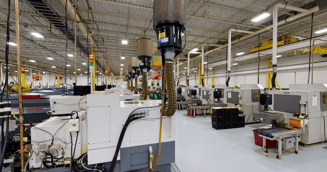 According to Francois Gau, a strategic business and marketing consultant who has been working with us for the past several years, "Teamwork is stronger than it has ever been. As someone who spends time at C&M periodically, the improvement is there to see and most impressive."
Technical Benefits
Training operators ourselves improves our operating efficiency and generates revenue that we reinvest in the business to benefit employees and customers by:
Providing team members with additional training
Expanding the size of our team to help ensure timely order fulfillment
Purchasing new equipment to help us further improve our operating efficiency
The success stories from Alejandro, Tony, and many others, affirm that in-house training of operators and machinists will continue to be a win for team members, customers, and the company. It took us a while to reach this point, but the results have been well worth the wait.
Please share your experience with training team members in-house below. We'd love to hear from you!
If you are interested in joining our team, please watch this short video and apply right here: